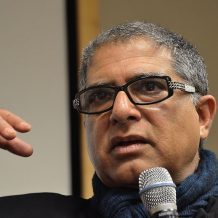 Gotham Chopra, son of spiritual icon Deepak Chopra, spent a year on the road with his father. They travelled from "city to city, country to country, trying to make sense of all the scattered pieces of who he seems to be," said Gotham in his new documentary entitled Decoding Deepak.  Gotham is a filmmaker and journalist whose curiosity of who his father is to the world as opposed to the "real" man known to his family led him on a this quest of discovery and understanding.
Gotham was curious about how his father's mystique has intrigued and attracted devoted disciples all around the world, ranging from Lady Gaga to lost souls searching for who they really are. He wanted to see this mystique for himself, and to separate the man he knows as family, with the man the world loves and reveres.
Gotham and his father travelled around the world, allowing him to take a closer look at the "spiritual empire" his father has built over his 25-year long career.  He also discovers that the man everyone always goes to for answers has some questions and confusions of his own.
The image that emerges of Deepak is not only of a spiritual guru and guide, but of a regular father full of flaws and doubts. In this heartfelt, honest journey of father and son, Gotham struggles to fully understand his father, which helps him to discover himself along the way.