By Maddie Santiago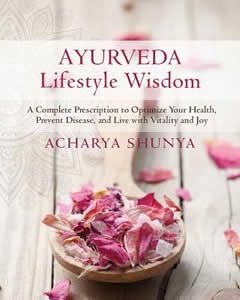 Ayurveda Lifestyle Wisdom: A Complete Prescription to Optimize Your Health, Prevent Disease, and Live with Vitality and Joy by Acharya Shunya
Ayurveda is a science developed in ancient India. It is a lifestyle of conscious living that prevents disease and optimizes health (Ayur = life, Veda = science or knowledge). Ayurveda addresses the mind, body, and spirit.
The two main principles are that the mind and the body are inextricably connected and that nothing has more power to heal and transform the body than the mind.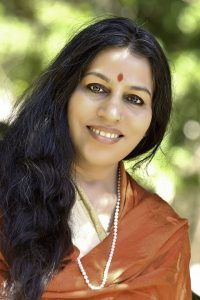 "This book has the potential to change your state of health for the better, permanently," Shunya says. "Health is not a probability that you may achieve. It is a reality, an underlying natural state of being."
Acharya Shunya's new book, Ayurveda Lifestyle Wisdom, is a straightforward guidebook on how to live the Ayurveda lifestyle. The book is perfect for yoga teachers, life coaches, or anyone interested in a spiritual journey of well-being. Shunya keeps to the same traditions of the centuries-old Ayurveda teachings, but shows ways to incorporate these time-tested techniques into our everyday modern lives.
Throughout this thoughtfully designed book, Shunya shares lifestyle teachings and wellness practices including meditation, yoga, exercise, remedies, ways to connect with nature, and more. The book includes clear guidelines for healing daily routines according to time of day and season. It has traditional recipes along with advice on meal structuring, seasonal dishes, and nutrition for your unique health needs. There are also natural recipes for beauty routines, such as homemade scrubs and oil blends.
The wonderful thing about this book and lifestyle is that it is not a list of rigid rules to live by. You can conform the Ayurveda Lifestyle Wisdom to your unique health needs and mind and body types. Incorporating the ancient traditions of Ayurveda into your life can increase your energy, help you get better sleep, increase your sexual pleasure, improve your digestion and immunity, bring you more joy, and many more benefits to your mind, body, and soul.
This book of holistic lifestyle guidance will show you how to de-stress and become more in-tune with your body. It will lead to improved health and overall well-being. Pick up a copy so you too can experience the vitality and joy of living the Ayurveda lifestyle.
Ayurveda Lifestyle Wisdom: A Complete Prescription to Optimize Your Health, Prevent Disease, and Live with Vitality and Joy
by Acharya Shunya
ISBN: 9781622038275
For more information visit Acharya Shunya's website at www.acharyashunya.com
Available February 1st, 2017 at Barnes & Noble, Amazon, and Indie Bound