By Melody Gluth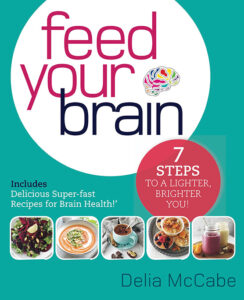 Feed Your Brain: 7 Steps to a Lighter, Brighter You! by Delia McCabe is a great book that is all about brain health. Keeping your body healthy is one thing, but having a healthy mind is equally as important. Stress, anxiety, and depression are rampant in society today, as well as the rise in cases of dementia. Brain health is important, and in this book, McCabe guides readers through seven steps to help them keep their brain healthy and in tip-top shape.
Delia McCabe has her Master's degree in Psychology and now devotes her time to enhancing life by improving brain nutrition. She has spent the past 20 years researching the effect that food has on brain function. Now, she presents at seminars in order educate people on how to achieve brain health through better nutrition. She is also completing her doctorate with a focus on nutrition and the impact it has on female stress.
Throughout the book, there is ample scientific evidence backing up McCabe's claims to having a healthier diet and a healthier brain. Better yet, she writes it in a way that it is simple to follow without being overly complex. The years of research she has spent on this topic is clear as she walks readers through the seven steps to better brain health. She empowers her readers through knowledge about how food is connected to brain function.
By sticking to a diet rich in the right nutrients, we can improve our focus and memory, reduce stress and anxiety, and think more clearly. This kind of diet also has the added benefit of healthy, glowing skin, improved energy levels, and achieving a healthy weight.
The first part of the book is all about the science behind how the brain works and how different vitamins, fats, oils, carbohydrates, and proteins affect brain function. What you eat can and does affect your brain. It influences mood, behavior, concentration, learning, and memory. By eating certain foods, we can directly change how we feel and how efficiently we can remember things.
The seven steps outlined throughout the first part are easy to follow. These steps are designed to help the reader adjust their eating habits with ease and address key areas in brain health. Each step contains scientific research and interesting facts about the brain and how different nutrients affect it. The seven steps are:
Sweat, sleep, sex, and stress – what they mean for your brain
Food intolerances – what they do to your brain
Food additives – why they're bad for your brain
Vitamins and minerals – which ones your brain needs
Protein – why your brain needs it to communicate effectively
Energy – how best to fuel your brain
Fats – the good, the bad, and the ugly
The second part of the book contains various delicious, brain healthy recipes. These recipes are simple to follow and allow for flexibility so readers can make adjustments as they see fit. There are recipes for breakfast, main meals, salads, snacks, condiments, and desserts. Recipes include all sorts of tasty dishes, such as stuffed dates, artichoke hummus, golden vegetable and cashew nut soup, and raw chocolate and date mousse. The variety of recipes will give readers plenty of healthy, tasty recipes to try and possibly inspire new ideas in the kitchen.
Feed Your Brain is a must have for those who are concerned with their overall health and wellness. Although there are many books with advice on how to stay healthy, none are quite like Feed Your Brain. McCabe uses science and years of research to inspire readers to change their diet and improve their well-being.