Do you have chronic back pain or headaches?  Are you struggling with your weight?  Do you often feel tired?  Your body may be trying to tell you something, says Dr. Chris Gilbert, MD, PhD, who has dedicated her career to treating symptoms and illnesses that other physicians haven't been able to address.
"Only by learning how to listen to your body will you be able to fix what ails you," Dr. Gilbert maintains.
In her forthcoming book, THE LISTENING CURE:  Healing Secrets Of An Unconventional Doctor, Dr. Chris Gilbert – who has practiced medicine all over the world, from a Mauritanian refugee camp during her time with Doctors Without Borders to UCLA Hospital — explains her unique process for identifying the repressed emotions that may be the root of a multitude of symptoms.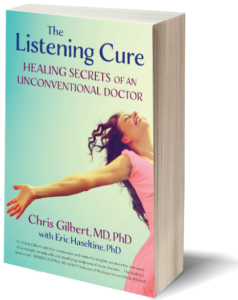 Dr. Gilbert is a successful speaker and doctor with extensive experience in holistic and integrative health. She treats her patients based on a her own medical philosophy where sha asks questions such as "what would your body say if it could talk?"
Dr Gilbert is knowledgable in and can answer questions regarding:
• How repressed emotions can lead to physical problems
• Why traditional medical care frequently fails to uncover the root cause of common ailments
• How people can encourage their bodies to "speak" by screaming, punching pillows, or participating in "inner group therapy"
• Why the solutions people find by listening to their own bodies can be more effective than doctor's prescriptions, especially when it comes to nutrition and weight loss
• How walking in nature, drawing, and interpreting dreams can help people understand and heal their symptoms.