By our publisher Trina Becksted
It was a nostalgic homecoming to create my summer vacation around Northern Ohio and Lake Erie.  Convincing my love Douglas to venture to the Midwest was no easy task.  He lived on the Pacific Ocean and traveled year after year to the Caribbean for his vacations.
Our Southwest summers lend themselves to multiple cool water getaways.  So why not treat yourself to something new and beat the heat on the Great Lakes?
Great Lakes! Everyone has heard of the Great Lakes of course, but unless you're from there, not everyone knows how spectacular they are.
What are the Great Lakes?
The Great Lakes are the largest surface freshwater supply on earth. It makes up 84% of the North America water supply area and about 21% of the world's water supply area.
There are five Great Lakes, and as I was growing up we learned to memorize them by spelling out the acronym HOMES— each letter standing for one of the Great Lakes i.e.  Lake Huron Lake Ontario, Lake Michigan, Lake Erie, and, finally, Lake Superior.
These Great Lakes not only provide fresh water fishing but, also provide entertainment such as swimming and boating, etc. as well for these states.
There are multiple Lake Erie Islands like Middle Bass, South Bass, the very private Rattlesnake, Marblehead, the jumping Kelly's, and Put in Bay Islands.  Many have lodging, wineries, famous restaurants, and bars with live entertainment.  You can get there by boat, ferry and to some, by car.
Stop 1: Sandusky, Ohio
The world renown Cedar Point Amusement Park is located in Sandusky, Ohio.  We visited it so many summers when I was growing up there. It always claimed to have the BIGGEST roller coaster in the world, each year building a new one or some other attraction.  What a thrill …and, I really have had my fill of them.  I no longer want to feel as though my stomach is reaching my throat.
Leaving Sandusky and our dear friends Joni and Ernie was tough. We loved spending time boating with them. We enjoyed a wonderful overnight stay on their boat at the Cedar Point Marina.  Joni and Ernie have summered here for nearly 40 years.  Sadly, they claim it will be their last summer in Cedar Point as they are now getting "too old" to manage their big cabin cruiser.
Stop 2: Huron, Ohio
Leaving Sandusky was the next stop in Huron.  As we entered my favorite small lake front town, there were incredibly beautiful hydrangeas, gargantuan trees, fruit stands, and wineries all around.
It's home to one of THE best Midwest resorts, the Sawmill Creek Resort. I used to plan 3-day corporate golf events here for clients when I had just started my Cloud Nine Marketing, Inc.  I was quite fond of the place (http://sawmillcreekresort.com/).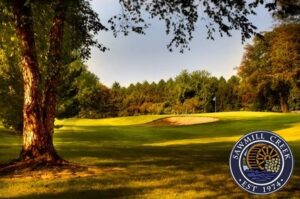 It was wonderful to return for an overnight stay.  Greg Hill is still the owner of 20+ years.  He's the reason this stunning waterfront (Tom Fazio designed golf property) has maintained such charm and elegance.  This family friendly resort has so many things to do with both indoor and outdoor pools, games rooms, and a gym along with educational experiences.
What is additionally imaginative about this hotel is that everything from the many works of art to the log wood walls inside the rooms are all from local areas in Ohio. This is a resort that is passionate about "Ohio's history, culture, geography, and wildlife set within a cozy environment."

Native Artifacts and Plant specimens are set in glass enclosed cases.  These cases surround their atrium where the baby grand piano is too, just as I remembered.  There are stunning indoor waterfalls and friendly Midwest smiling employees that make Sawmill Creek Resort a Lake Erie gem.
Stop 3: Cleveland, Ohio
Leaving western Ohio for downtown Cleveland was next.  I told Douglas about the opulence and wealth in Cleveland during the Industrial Era.  It was likened to a NYC, Paris, and London. It was known as the home of "Millionaire's Row."
No other place in the world could boast having the highest concentration of Millionaires, anywhere in the world, during the 1860's to 1910's.  Nearby University Circle has the most academia, education, and culture, within a quarter mile radius, anywhere on the planet.
The new $320 million addition to the Cleveland Museum of Art is stunning and a must see while in downtown Cleveland. My favorite is the High Renaissance Art with sculptures from Michelangelo and paintings from Ruben, Caravaggio, and Bellini.
There's perhaps one of the largest collections of Medieval armor in the world, most of it donated by the Severance Family in "Armor Court."  There is so much to see there.
The Vatican was demanding a return of these pieces, as if they need more art.  The Cleveland Museum of Art can claim ownership of innumerable priceless pieces.
The Western Reserve Historical Society has pieces of extraordinary work and influence from industrialists including John D. Rockefeller to Cleveland industrialists Hinman Hurlbut, John Huntington, and Horace Kelley.
Also located in downtown Cleveland, is none other than the Rock N' Roll Hall of Fame. The name of this historic place says it all. It is a world renown thrilling place to explore with the family and embark on a truly once in a lifetime historical experience.
It is an honor for an artist to be inducted into the Hall of Fame, and there are plenty of Rock N' Roll legends at the Rock Hall of Fame. It is the perfect place to go and see the work of musical geniuses. 
So, for your next family vacation visit the Lake Erie towns and Cleveland, Ohio and see for yourself how incredibly diverse the opportunities are and what a fun COOL summer vacation you'll have in Ohio. 
For more information on the area and these amazing sites you can find the links to the locations below and be able to book your stay and activities in Ohio!
https://www.epa.gov/greatlakes/great-lakes-facts-and-figures
https://clevelandhistorical.org/items/show/10#.WYDttTOZPfY