Trina Becksted, Publisher's Picks:
I'm recommending these three new Skyhorse Publishing titles- Vegetarian Comfort Foods Jennifer Browne, For the Love of Food and Yoga by Liz Price-Kellogg and Kristen Taylor and The Organic Cook's Bible. If you are looking for unique recipes to delight your guests and keep them healthy, check out these new cook books for some fresh ideas this upcoming holiday season.
The Organic Cook's Bible by Jeff Cox is a necessity for home cooks, gardeners, and chefs. It breaks down the wide spectrum of organic ingredients available and clearly explains how to choose, store, and prepare them. This book isn't just a simple produce guide; it goes more in depth to also cover meat and poultry, dairy and eggs, beans and grains, herbs and spices, and much more. For your convenience it is also organized alphabetically within each section for easy reference to your favorite recipes and guides to organic preparation.
Although organic foods are becoming more popular and are now more readily available than they were just a few years ago, there is still a need for effort when trying to go organic in today's processed world. Many people new to the organic way of life don't know where to begin shopping, what to buy, or how to prepare filling yet healthy meals. This book eases their struggle, with in-depth descriptions of over 150 organic foods. It expands upon what makes these foods more flavorful and nutritious than their non-organic equivalents all while providing valuable information on nutrition, seasonality, what to look for, storage, preparation, and uses.
The Organic Cook's Bible offers more than 250 recipes to capture the great taste of organic ingredients and add variety to everyday meals. Savory dishes like Moroccan Chicken, Scallion Frittata, and "Pumpkin" Pie made with butternut squash—many recipes contributed by leading organic chefs. A special Top Varieties section is also an extra bonus that lists over 900 of the best varieties of organic and heirloom produce available in the United States.
Check out these Skyhorse Publishing titles as well:
For the Love of Food and Yoga
by Liz Price-Kellogg and Kristen Taylor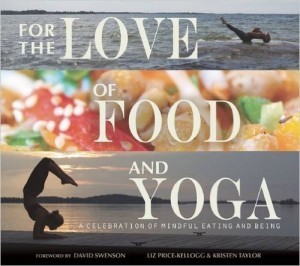 Vegetarian Comfort Foods
by Jennifer Browne