By Melody Gluth
Holiday cookies are a tradition that may go back for centuries. Cookies as we know them in America were originally brought by English, Scottish, and Dutch immigrants. Many of the traditional Christmas cookies we eat today originated from all over Europe as part of holiday festivities.
Centuries ago in Bavaria and Austria, they made springerle, which were simple white, anise-flavored cookies. They were typically rectangular or circular and would have a design stamped on the top. Biblical scenes were some of the earliest pictures stamped onto springerle cookies, which eventually transformed into pictures of holidays and events. These stamped cookies eventually became part of holiday traditions. German lebkuchen (which is gingerbread) was one of the first cookies traditionally associated with Christmas.
By the 1500s, Christmas cookies had become a trend all over Europe. In the early 1600s, the Dutch brought the first Christmas cookies to America. By the late 1800s to the early 1900s, cookie cutters hit the market, creating the festive shaped cookies that we eat to this day.
Holiday cookies can be so deliciously tempting, but hard on our diets. Cookies are intrinsically unhealthy, so how do we make them better for us?
Celebrity caterer, Andrea Correale, the founder and president of Elegant Affairs in NYC, has created these easy holiday cookie recipes for the more health conscious. By switching out some of the ingredients with less conventional but slightly healthier ingredients, we can still enjoy holiday cookies but with less guilt.
Not So Sugary Vegan Sugar Cookies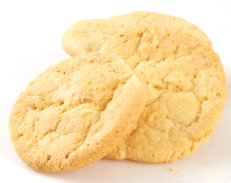 Ingredients:
1/2 cup (1 stick) vegan butter softened 1/2 cup organic cane sugar & extra for sprinkling
1/4 cup brown sugar
1/4 cup unsweetened applesauce
1 tsp pure vanilla extract1 3/4 cups unbleached all purpose flour & some on the side for rolling
1/2 Tbsp. arrowroot powder
1 tsp baking powder
1/2 tsp baking soda
1/4 tsp salt
1-2 tsp non-dairy milk
Directions:
Preheat oven to 350 degrees.
In a large mixing bowl, cream butter and Sugar.
Add brown sugar, vanilla, applesauce, and beat for 1-2 minutes.
Mix flour, arrowroot, salt, baking soda and baking powder.
Sift dry ingredients over butter and sugar mixture.
Mix just until incorporated.
Then add almond milk and mix until soft dough is formed.
Cover and freeze dough for 15 minutes.
Use small ice cream scoop chilled dough and roll into balls.
Arrange cookies on a clean baking sheet 2 inches apart to allow for spreading.
If you've rolled the dough into balls, dip a glass into cane sugar and gently smash down into a disc to help them cook more evenly.
Sprinkle lightly with remaining cane sugar.
Bake on the center rack for 10-12 minutes for or very slightly golden brown.
Remove from oven and let rest on pan for a few minutes, then transfer to a cooling rack to cool completely.
Healthy(er) Snickerdoodles
Ingredients:
3/4 cup whole wheat pastry flour
1/4 tsp baking powder
1/4 tsp salt
1/4 tsp cream of tarter
1/4 tsp & 1/8 tsp baking soda
1/4 cup cane sugar
1/2 tsp pure vanilla extract
1 and 1/2 tablespoons milk of choice
1/4 cup butter
Directions:
Preheat oven to 330 F.
Combine dry ingredients and mix well.
In a separate bowl, melt the butter, then stir in vanilla and milk.
Pour dry into wet and mix again.
Form balls.
Roll each ball in a mix of two parts sugar to one part cinnamon.
Refrigerate until cold.
Cook for 10-11 minutes.
50 Calorie Chocolate Crinkle Cookies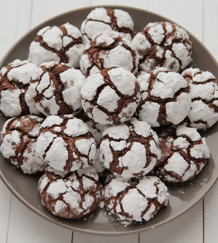 Ingredients:
1 cup all-purpose unbleached flour
1⁄4 cup unsweetened cocoa powder, plus 2 tbsp.
1⁄4 cup cane sugar, plus 2 tbsp.
1/4 tsp baking soda
1/4 tsp salt
1⁄4 cup vegetable oil
3 Tbsp. milk
2 Tbsp. maple syrup
1 tsp vanilla extract
Powdered sugar
Directions:
Preheat oven to 300° F.
Lightly grease 2 baking sheets.
In a large mixing bowl, combine the flour, cocoa powder, sugar, baking soda and salt and stir very well.
In a medium mixing bowl, stir together the oil, milk, maple syrup and vanilla.
Pour wet ingredients into dry, and stir to make dough.
Using a small ice cream scoop, scoop dough and roll into 20 to 24 balls, then roll in a dish of powdered sugar.
Place balls on the prepared baking sheets and refrigerate for 1 hour.
Bake the chilled balls for 13 minutes.
Remove from the oven and allow to cool for at least 10 minutes.