Holiday greetings to all! We bring to you with great joy our 2018 Holiday Gift Guide. We chose these companies, some local, and some national, for their commitment to quality of life, sustainability and intention.  We know at times it's hard to conjure up unique gifts for the guy or gal who has so much already. So we hope this helps and you enjoy our picks this year. Happy Holidays and Best Wishes for 2019!
NATIONAL  CONSCIOUS HOLIDAY GIFT IDEAS
Yoga Democracy yogademocracy.com
Yoga Democracy manufactures sustainable yoga wear or athletic clothing. Everything is manufactured in-house. 95% of the company's fabric contains at least 60% recycled fiber to reduce environmental impact. Yoga Democracy was born from a frustration with the lack of ethically made and environmentally friendly athletic wear. Sustainable and earth friendly practices are an integral part of the business model.
Item:  Artezen Yoga Leggings – Vault $75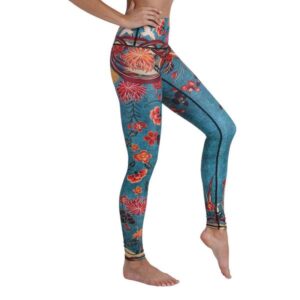 Pure Indian Foods Ghee Sampler pureindianfoods.com
The company's vision is to offer grass-fed organic ghee products at reasonable prices that will help ghee achieve the same status in the U.S. that it has enjoyed in India for millennia. The husband and wife team brought the family ghee business to the United States in 2008. They are also a full-fledged online Indian grocery.
Item:  Spiced Ghee Assorted Sampler Pack  Grassfed and Certified Organic $17.95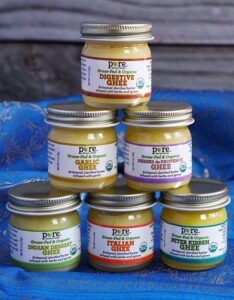 Made as Intended- Blessing Bracelets madeasintended.com
Made as Intended is a mission-driven company. Each jewelry product from their diverse selection of items is designed to hold a high intention and energetic vibration. The company strives to promote awareness of life and its infinite possibilities through the quality of the products and messages. The underlying message is that we are the change we want to see in the world.
Item:  Peace, Love, and Happiness Trio – Rose Quartz, Howlite, and Pearl Wrist Mala  $90 to $95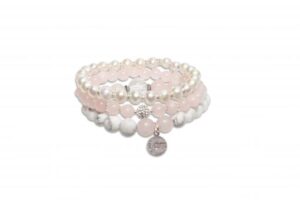 Giggles and Joy Children's Books gigglesandjoy.com
Giggles and Joy is a book series focused on sharing spiritual life lessons for kids age 2 to 10. It is for all the kids, parents, grandparents, caregivers and teachers of this world. There are three books, eight poems in each. They are positive, light-hearted, and universal in nature.
Item:  The Giggles and Joy Gift Set of all 3 books  $39.99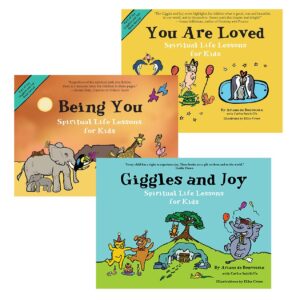 Earth Mama Organics Newborn Baby Care Package earthmamaorganics.com
The fierce and protective mother instinct is at the heart of the company. They will go to the ends of the Earth to make sure customers are safe. Medicine is abundant in nature. Ancient wisdom hasn't changed. And all mothers are empowered by love and empowered by knowledge. The abundant selection of baby care products as well as products for mammas is organic with self-grown herbs.
Item:  A Little Something for Baby Gift Set  $24.99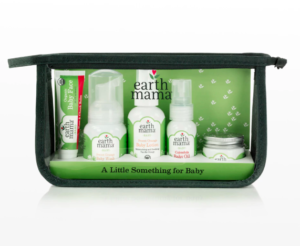 Seasnax  Seaweed That's Savory seasnax.com
Seasnax is a socially conscious kid-inspired family business. The founders are moms and dads whose kids eat seaweed like candy. The company sources only the highest quality of seaweed from Korea. 10% of annual net profit is contributed to organizations which better the world. The company offers a full line of snack products made of seaweed and surprisingly delicious. Great for the munchies!
Item: Seasnax Gift Card $50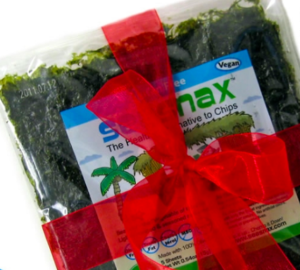 Yogavated connects fashion with the arts by collaborating with local artists to create limited edition designer activewear that is functional and comfortable for yoga lovers, runners and everyone in between. The artwork selected is chosen for its unique meaning and the passion behind it. The idea is that by combining artists with intention, art and practice is connected with fashion.
Item:  Amazonite Divine Pullover $168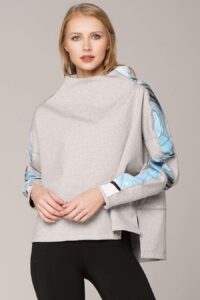 Funnel Your Energy  Make Protein Drinks on the go! funnelyourenergy.com
The company is a mother-daughter team spiritually, emotionally, and creatively connected. A healthy lifestyle of good nutrition and fitness is at the heart of the company. Funnel Your Energy is a small paper-foil funnel small enough to fit into your wallet and makes it easy to add nutritional supplements in powder form to your water so you can have your nutrition on the go. Great stocking stuffer!
Item:  Pack of 7-  $6.97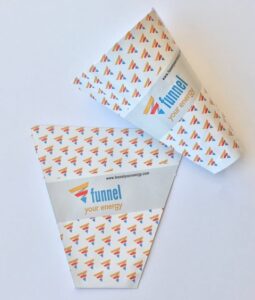 Mamma Chia Drinks mammachia.com
Mamma Chia is a conscious and sustainable company and is dedicated to sharing the benefits of chia through nutrient-rich, organic foods and beverages powered by chia. Their intention is to offer the highest quality organic plant-based superfoods and beverages that provide vitality, energy, and strength. They continue to innovate and the product lines are continually expanding.
Item:  Chia Squeeze Mix and Match Flavors 16-pack  $21.99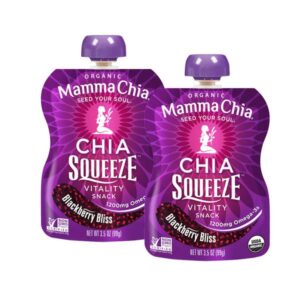 Delicacies Jewelry delicaciesjewelry.com
Delicacies Jewellery is inspired by food ingredients as pretty, wearable tokens that bring us home. The idea is finding your center with food as your guide. And its about honouring and respecting simple ingredients. Delicacies Jewelry partners with Andrew Zimmern, host of Travel Channel's 'Bizarre Foods' and has received national press showcasing their unique offerings.
Item:  Delicacies Basil Bracelet $60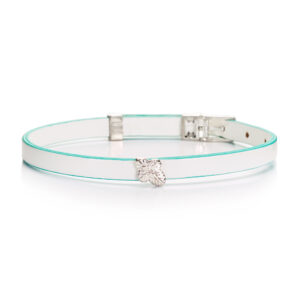 Doctors Without Borders:  Donation Gift  doctorswithoutborders.org
Doctors Without Borders is a non-profit international medical humanitarian organization. DWBprovides emergency aid to people affected by war, epidemics, famine, natural or man-made disasters, and areas where there is no healthcare available. It's an independent global movement providing aid where it is needed most and provides this help to everyone, regardless of race, religion, or political beliefs.
Item:  $100 donation
Save the Children:  5 Chickens to Feed the Village savethechildren.org
Save the Children is an international, non-governmental organization that promotes children's rights, provides relief, and helps support children in developing countries. The Save the Children Alliance is a global network of nonprofit organizations supporting local partners and Save the Children International in more than 120 countries. The organization promotes policy changes in order to gain more rights for young people.
Item:  5 chicks which will grow to produce protein-rich eggs  $100
Pure Plant Home pureplanthome.com
At Pure Plant Home, the company's line of vegan candles are hand-poured in small batches with love and care using an exclusive blend of coconut vegetable wax and real essential oils There are no petrochemicals, synthetic fragrance or artificial dyes. The intention accompanying all products is positive energy, enhanced well-being, good health, happiness, and longevity.
Item:  13 oz pillar 3 x 3.5 Italian Bergamot/Persian Lime Soy Vegetable Blend w/ essential oils  $27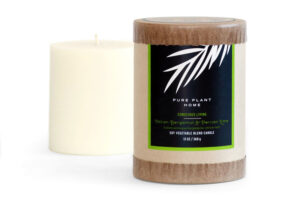 Smile Train Donation Gift Cleft Palate Surgery www.smiletrain.org
Smile Train is an international children's charity with a sustainable approach to a single, solvable problem: cleft lip and palate. They focus on training local doctors to perform cleft repairs in their communities. These doctors then train other doctors to perform the surgery, creating a long-term solution and new aesthetic life for a child.
Item: $125 donation, covers 1/2 of one child's cleft repair
Go Macro Box of Protein Bars Dense Food on the GO! gomacro.com
Go Macro's mission is to spread awareness for a balanced, plant-based lifestyle with products that have positive effects on the world. The goal is to inspire you to have a healthy body, sharp mind, and bold spirit. The primary product is the GoMacro Bar, with many to choose from, vegan and high in protein for a healthy energy boost.
Item:  Macrobar Mini Sampler Pack 24 bar carton $30.96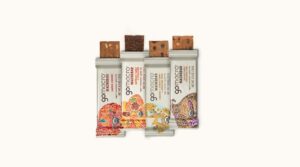 LOCALLY CONSCIOUS HOLIDAY GIFT IDEAS (SCOTTSDALE ARIZONA)
Adam & Eve Med Spa: Fem Touch adamandevemedspa.com
Adam & Eve Medical Aesthetics offers state of the art service to the Scottsdale area through innovative medical grade aesthetic and cosmetic procedures. The company's team of medical professionals come together to offer the best service by keeping up with the latest cutting-edge technologies. Adam & Eve seeks to provide a rejuvenating, transformative experience. With age and after childbirth, women start noticing symptoms related to their vaginal health that affect their quality of life. FemTouch is a safe and comfortable out-patient procedure offering remarkable results.
Item:  FemTouch Vaginal Laser Rejuvenation $1200
Rare Earth Gallery rareearthgallerycc.com
Rare Earth Gallery showcases rare, awe-inspiring art from the Earth. These items can be featured in your home, office, and as landscape decor. Their selection includes fossils, decorative minerals, art glass chandeliers, decorative minerals, hand-blown glass wall art, and jewelry.
Item:  Amethyst with Citrine Stalactites (Ametrine) on a custom stand 3.75" x 3.5" x 12.25"  $490
Cornelis Hollander Jewelry Designs cornelishollander.com
Whether you are looking for a one-of-a-kind piece of jewelry or you have an heirloom you want to transform into something more modern, Cornelis Hollander designers will work with you to make your vision real. Cornelis Hollander features bold, unique, jewelry design with a diverse array of choices. Their intention is to help you design or choose a piece that you adore.   Diamond Necklace $1,790.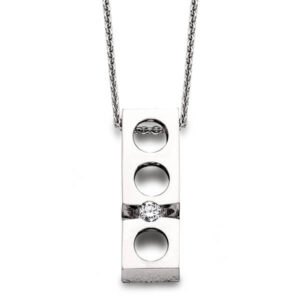 After many years of leading practices in other studios, Harumi decided to expand her passion for the power of yoga and the healing arts by opening her own studio in North Scottsdale in January of 2013. With a diverse staff, a variety of classes, bodywork, workshops, and retreat offerings, Harumi creates an atmosphere that reflects her philosophy of inclusiveness, compassion, and healing.
Item:  One Phoenix Rising Yoga Therapy Session $110
Sweet Basil Gourmetware and Cooking School sweetbasilgourmet.com
Sweet Basil Gourmetware features everything you need for cooking and entertaining, cookware, dinnerware, linens, gadgets, and more. Sweet Basil Cooking School offers an extensive variety of classes taught by experienced Chefs with a talent for teaching. The school offers a variety of hands-on cooking classes, mornings, afternoons, and evenings.
Item:  One Gourmet Cooking Class for Couples  $150
Howard Falco is an author and an expert on human understanding and potential. He is a spiritual teacher and peak performance coach to college and professional athletes, CEOs, and individuals looking for a new way of overcoming life's challenges and achieving success. He has authored two books on the understanding of life and personal creation, 'I Am: The Power of Discovering Who You Really Are' and 'Time in a Bottle: Mastering the Experience of Life.'
Item:  One Hour Private Session $195.00
Simple Jane is a business created for women who want to experience the healing power of CBD products that work without the stigma of cannabis. The company promises to keep things simply 'sexy and fun' with several product lines to choose from, including a line of topical aphrodisiacs, all designed to heal your body, mind, and soul. The Wellness Kit is your ultimate toolkit for recovery. With our large Himalayan Salt massage stone, a Travel Size On The Mend, and small On The Mend Balm, this set is everything you need to get to healing for busybodies. The On The Mend formula is an uplifting blend of therapeutic-grade essential oils and pure hemp-derived CBD created to soothe inflammation and sore muscles, relax body & mind, and speed up recovery so you can get back to doing the activities you love, faster.
Item:  Wellness Kit  $55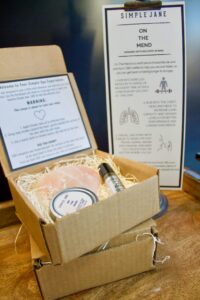 Foothills Animal Rescue Boutique foothillsanimal.org
Foothills Animal Rescue is a foster based organization dedicated to saving the lives of homeless dogs and cats and finding them loving homes through rescue, care, and adoption. This well-stocked boutique is the shelter's primary source of revenue. It's a non-consignment volunteer-based shop that sells clothing, furniture, housewares, jewelry, and much more.
Item:  Gift Certificate $50
Lymph Life Lymphatic Therapy lymphlifeaz.com
Give the gift of wellness to someone you love – maybe even yourself! There is no greater joy than being able to help others in their journey to well-being. Lymphatic therapy encourages the release of toxins to help improve the health and vitality of the body. This is an essential treatment in the bouquet of healthcare modalities for holistic health, preventative care boosts circulation and energy in the body, and lymphatic therapy provides support for healing from surgery, disease, cancer, and more. Lymph Life employs the technologically advanced LymphstarPro® instruments for therapeutic vibration and energetic modalities. A series of six treatments is recommended and then maintenance as needed.
Item:  HOLIDAY 60 MINUTE SESSIONS PACKAGE of 6 only $480 (Value $540)
           HOLIDAY 60 MINUTE SAMPLE SESSION only $80 (Value $90)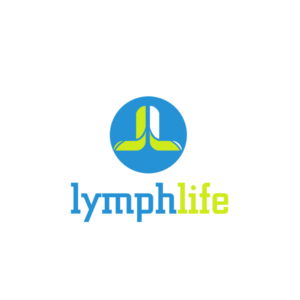 Kim Balzan Sound Healing Session kimbalzan.com
Kim offers private Sound Sessions. Contact Kim Balzan 602-577-9408 kimbalzansound@gmail.com to schedule. The beauty of this practice is all you have to do is sit or lay down and listen. As you become relaxed, your body naturally knows what to do. Some benefits are that this practice lowers blood pressure, reduces stress and anxiety, relieves depression/insomnia/addiction, stabilizes blood sugar, aids in ADD/ADHD and PTSD.
Item: One private Sound Session $150
Unstoppable Healing Energy Healing Session with Leslie Finkler unstoppablehealing.com
Unstoppable Healing is a powerful process that enables you to reverse engineer what has caused one or more systems in your body to become out of balance. It employs a comprehensive suite of energy management techniques to literally unlock and release the negative energies in you that lead to both chronic physical and emotional hardships. Stress and pain do not have to remain in your body. With Unstoppable Healing, in just a short amount of time, you can access on an energetic level, the root causes of issues in your whole body. You can dramatically change your life for the better.
Item:  One 90 minute UH Session  $150
           Three 90 minute UH Sessions  $390 (You save $60)
LOCALLY CONSCIOUS HOLIDAY GIFT IDEAS (PHOENIX ARIZONA)
Bryant Rushing Beauty bryantrushing.com
Bryant Rushing Beauty, created by Cheryl Bryant, Rushing focuses on making your skin the best it can possibly be. Through years of esthetician knowledge and a life long love of all things skin care, Bryant Rushing Beauty offers an array of products that will rejuvenate and bring life back to your skin through a natural healing process.
Item:  Answered Prayer  $53