Have you ever had a string of bad luck and felt hopeless? Do you find yourself unable to learn from your struggles? Why would God punish you, of all people? What are you supposed to do?
Bernie Siegel would argue: Grow.
Bernie Siegel is an acclaimed doctor and New York Times Bestselling author. Together with his grandson, up-and-coming author Charlie Siegel, he wrote "When You Realize How Perfect Everything Is: A Conversation About Life Between Grandfather and Grandson".
Throughout their book, Bernie and Charlie write about the trials of life and the love that you gain from enduring these trials. There is beauty in all of life's lessons, and all you have to do to realize this beauty is be conscious.
This is a lesson we can all learn. Oftentimes, the struggles in our lives are just that: the struggles. By focusing on the negatives, we are unable to learn the lessons that life is trying to teach us and grow as a person. Although it may be hard, by shifting our focus and energy to how we can use these struggles as lessons, we can become better people.
Here's one of the poems from the book: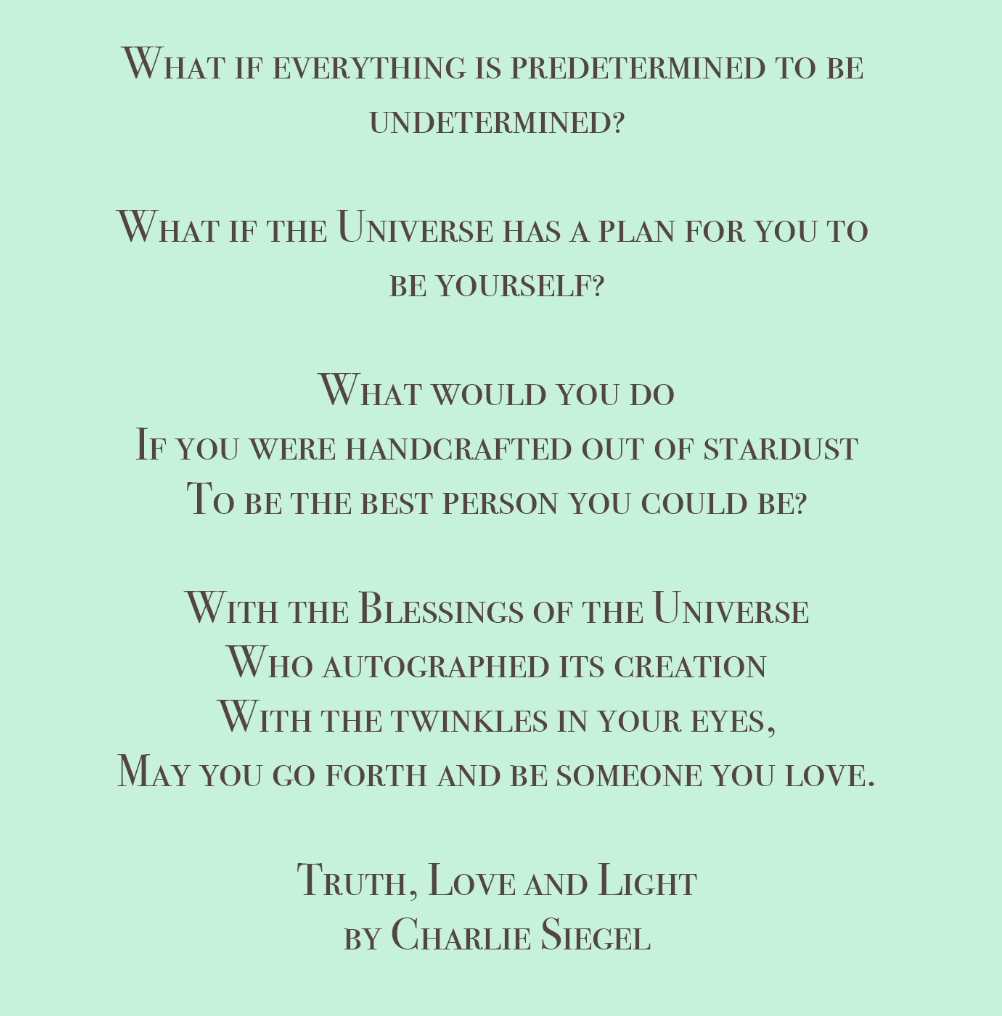 In this passage, Siegel asks us to slow down and reflect. If there is a hiccup in our personal plan, or life doesn't go our way, we are asked to wonder if this was meant to be. We are asked to not look at the negatives but rather take them as ways to grow and be someone better. Learn from your struggles. Be the version of ourselves the Universe intends for us to be. And use this version of ourselves to spread love to ourselves and others throughout the world.
This poem is just one of the many in the Siegels' book. Their writing gives off an aura of healing and their love for each other and their subject matter is clearly evident.
Buy When Your Realize How Perfect Everything Is here
If you're looking for more, Bernie Siegel has another book, No Endings, Only Beginnings, that implores us to make our own guidelines for living healthily.
Buy No Endings, Only Beginnings here
Both are worth your time.
As always, slow down and stay conscious. Reflect on what life is challenging you with, learn from your mistakes, and most importantly, grow as a person.