From our publisher, Trina Becksted:
Hello Readers. Thank you for being a part of our Holistic Healing News! We are now in our 10th year and continue to gather info on innovative products, books, and other media that can transform or enhance your well being.
This just in…  "Must haves" for our yoginis who have it all and need some new yoga wear.
Mother's Day is a great time to get gifts like yoga mats, straps, blocks, etc. to help you get the most out of your practice! Check out the latest from Yoga Design Lab in Ubud Bali.  This is personally one of my favorite places on the planet I have visited.
They have luxurious, eco-friendly yoga mats to eye-catching Peek-A-Boo Leggings, here's a guide to some of their favourite Yoga Design Lab products we know mom will love this Mother's Day. Whether she loves getting out, working out or zenning out, there is something for her!
The Fashionista: Provocateur Leggings ($68)
Premium quality leggings so lovable (and attention-grabbing) you might question ever taking them off.
Innovative Active-Lux fabric created by Yoga Design Lab.
Available in three unique laser cut designs: Katie, Moondancer and Provocateur.
Form-fitting compression technology to ensure that sleek and slimming effect.
Elastic free waistband to allow for greater comfort and prevent any cutting in as you fold and flow.
The Yogi: Mandala Rose Combo Mat ($68)
The ultimate yogi companion.
Timeless mandala pattern, designed to assist with your alignment and positioning.
Made from natural tree rubber, recycled plastic bottle microfibres and water-based inks.
Mat and towel combined – an all-in-one product.
70in x 24in x 3.5mm, 4.1lb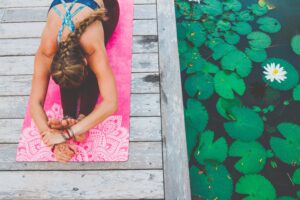 The On-The-Go Mom: Geo Commuter Mat ($54)
Light to carry and easy to roll or fold up – it's a perfect yoga mat for those moms who are constantly on-the-go!
Made from natural tree rubber, recycled plastic bottle microfibres and water-based inks.
Cushion, stability, and responsive grip to reduce injuries.
70in x 24in x 1.5mm, 2.9lb
The Nature Lover: Breathe Towel ($39)
Be transported and give yourself a moment to breathe with this beautiful, serene towel design.
Great for all forms of yoga and fitness or a day in the park or beach with the kiddies.
Printed with water-based inks.
Lightweight, insanely absorbent, non-slip and dries in minutes!
The Morning-Stretch Mom: Mandala cork Wheel ($48)
The perfect helper to your morning "me-time" stretch
Offers support for those challenging poses and adds a good dose of creativity to your practice
Achieve backbends smoothly and loosen up tight muscles
Width 5.1 in | 13 cm
The Work-A-Holic: Infinity Yoga Ball ($24)
The perfect piece of fitness equipment for the busy-bee.
Sneak in a quick workout session while at your desk. Who said abs can't be made in the office?
Dual-sided yoga & exercise ball with anti-burst technology.
Size: 65cm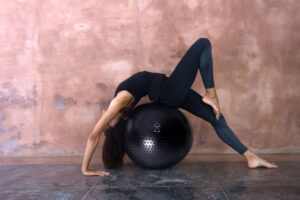 The Eco-Mom: Zoto Bottle ($22)
Premium insulated stainless steel water bottle – Lets cut our use of plastic bottles!
Loose leaf tea/fruit infusion filter included.
Keeps liquids hot or cold for 12+ hours!
BPA-free.
Fitness Queen: Yoga Prop Kit
Master challenging poses and ramp up your yoga practice with a Yoga Design Lab Yoga Prop Kit.
Mix and Match blocks, straps, balls, towels and the Bali Breeze Mat Spray.
Get 20% off your total order when you buy any 4 or more YDL products.
$44.80 bulk discount: 2 Blocks $28.00 + Strap $16.00 + 12.00 Spray
About Yoga Design Lab
Blending fashion­-forward design elements with innovative functionality and bio­-renewable consciousness is key to the Yoga Design Lab approach.
In 2014, Canadian surfer/yogi, Chad Turner, sold all of his belongings and moved to Bali with the idea to create beautiful yoga mats. The young brand produces visually stunning, eco­-friendly yoga products designed to inspire.
"I was seated in the back of a packed yoga class while on vacation in Ubud, Bali. Looking around, all I saw was a sea of unoriginal, massed produced, solid colored mats. My thinking was, there must be a way of creating a highly functional product that was also aesthetically beautiful. So the journey began. Long story short, I sold my stuff, packed up a couple bags and moved to Bali with the goal of creating a stunning line of yoga products that inspire more people to get excited about yoga." ­- Chad Turner, Designer/Founder Yoga Design Lab
From insulated stainless steel water bottles, to yoga mats comprised of biodegradable natural tree rubber and recycled plastic bottle microfiber, to the water based inks used in the printed designs, we can all make a difference with the products we buy.