By Maddie Santiago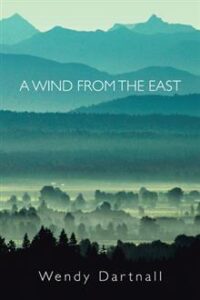 Wendy Dartnall's new memoir A Wind From the East is a story of healing through poetry and self-expression. The memoir recounts her love story with her husband, Terry, from love at first sight until eventually his battle with cancer took his life. They were married for 25 years and believed they were destined for each other.
When cancer took Terry's ability to communicate away from him, Dartnall wrote poetry and letters as a way to communicate with him. In the book, Dartnall candidly shares these excerpts along with her honest experience of love, loss, and enlightenment through writing.
Dartnall says, "Honestly, Terry was the poet in our family, he was the one who had a way with words, which was one of the reasons why it was so hard for me when cancer took his ability to speak. But during long hours beside his bed, I found relief in writing my own poetry and it became my way of talking with Terry and dealing with my grief at the same time."
Dartnall continues to write letters and poetry to her late husband. Her intimate story or grief shows that death is not the end of a relationship.
To learn more visit wendydartnall.com
A Wind from the East
By Wendy Dartnall
ISBN: 9781504300438 (softcover) 9781504300445 (e-book)
Available at Amazon, Barnes and Noble and Balboa Press