By Maddie Santiago
Year after year, the most popular new year's resolution is to be healthier or lose weight. Although it's not always easy, making sure you're getting enough essential nutrients in your diet is a big part of maintaining a healthy lifestyle. Adding some key foods into your diet, like protein powder, may help you reach your health and fitness goals.
The body benefits in many ways from protein. Protein helps maintain muscle mass and rebuild muscle, this is why protein is especially important after workouts in order to reap the full benefits from the workout. Protein also makes you feel full faster which helps to curb your appetite, so it is ideal for weight management. It can stabilize blood sugar levels, relieve anxiety, and naturally balance hormones. Protein also benefits heart health, strengthens bones, and brain functioning.
A busy life sometimes gets in the way of preparing healthy nutrient-packed and protein plentiful meals three times a day. Protein powder can help incorporate the needed protein into your diet with minimal effort. Of course, protein powder can be added to the typical super food smoothie, shake, or juice, but it can also be added to other unassuming things as well. A quick search online and you will find tons of recipes that include protein powder in cakes, muffins, hot chocolate, energy bites, acai bowls, salads, and even rice or pasta dishes. Adding a little protein powder into your favorite snack or meal can be easy and very beneficial.
There are a wide variety of protein powders available on the market today. Some powders derive the protein from plants and they are suitable for vegetarians and vegans. Since there are so many options, make sure to read all of the ingredients listed and be cautious about all of the contents. Some products contain artificial flavors, colors, and fillers. Make certain that there are no unnecessary ingredients that could be undoing the healthy choice you're trying to make for your body.
A protein powder that we recommend is called ALOHA. One serving of ALOHA protein powder is 18 grams of whole food protein made with Madagascar cinnamon, plant-based protein and either organic, fair trade cacao or organic vanilla bean. The protein is thoughtfully sourced from plants like hemp seeds, pumpkin seeds and peas. The powders, and all of the products offered by ALOHA are Non GMO, Gluten Free, Dairy Free, Soy Free, Vegan, and have no artificial flavors, chemicals, colors, or fillers. Also, ALOHA tries to use only materials that are recyclable, sustainable, and eco-friendly.
Constantin Bisanz, a health enthusiast, avid athlete, and Austrian entrepreneur, is the Founder of ALOHA. He believes that nutrition is the foundation to overall health and wellness. He was also frustrated about the weak regulation, conflicting messages and labels, and lack of quality products and information in the food and health industries. Bisanz studied the ancient Indian science of Ayuryeda— a lifestyle of conscious living that prevents disease and optimizes health within the mind, body, and soul. All of these factors helped Constantin Bisanz create ALOHA in January 2014, as a part of his mission to help others live healthier and happier lives. Constantin and his team at ALOHA, create real food products made from simple, pure, high-quality, and sustainably-sourced ingredients that offer accessible solutions for everyone to help maintain a healthy lifestyle.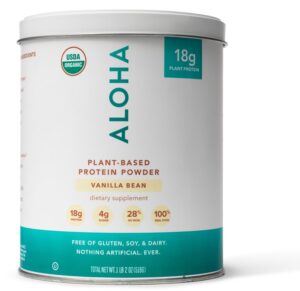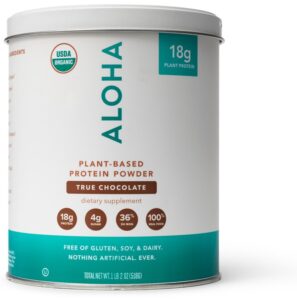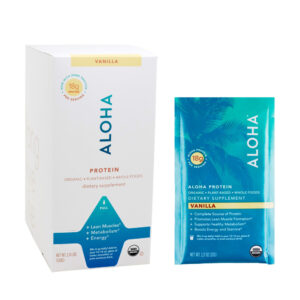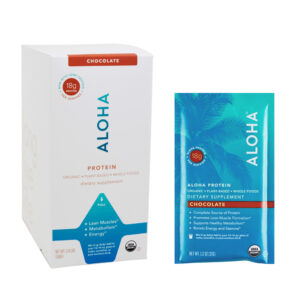 ALOHA Protein comes in both Vanilla and Chocolate flavors that are available in a 1.14-pound tin (containing approximately 14 servings) or a pack of 14 individual serving pouches.
To order yours or to get more information on ALOHA Protein and their other available products visit their website at aloha.com.