By Melody Gluth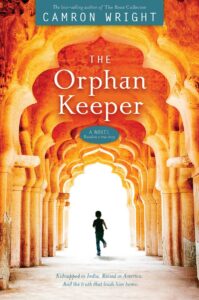 The Orphan Keeper is a new and heartfelt book written by Camron Wright. It is based on the true life story of his good friend, Taj Rowland.
Taj, called Chellamuthu at the time, grew up in a village in India where he lived in a small, one-room hut with his family. When he was just 7 or 8, he was kidnapped and sold to a Christian orphanage.
Meanwhile in the U.S., Fred and Linda Rowland were interested in adopting from that orphanage. They were assured that they were adopting a little girl, but later was it revealed to them that Chellamuthu was a boy. He was also closer to eight years old, rather than the three as they had been told.
Chellamuthu arrived to the U.S. unable to speak a word of English. He had no way of telling his new adopted parents that he had been kidnapped and he had a family back home in India. It took a year before he could speak enough English to tell his new parents that he already had a mother and father back home—a family. Unfortunately, it was too late.
Fred and Linda repeatedly tried to make contact with the orphanage, but no one would respond.
This is a story of hope, discovery, and determination. Taj never gave up, and (spoiler alert) eventually he is finally reunited with his family after many years of searching.
Taj's story shows us that, no matter how tough things may be, we should never give up.
This is a truly inspiring and heartwarming story. To learn more go to theorphankeeper.com. If you are interested, order The Orphan Keeper and read Taj's incredible story.