Sometimes it feels as if you are constantly on the go. Finding time for yourself is a difficult feat in today's modern fast-paced world. However, relaxation is an essential component to living a happy and healthy lifestyle.
Here are five ideas to help you relax.
1. Read a Book
When was the last time you set foot in a bookstore? Like most of us, it has probably been a while. There are so many amazing books just waiting to be read. If you don't know where to start check out Best Sellers Lists or consider joining a book club. Studies have shown that reading a book can reduce levels of stress by almost 70 percent. If you simply don't have time to sit down and read a book, you can buy a book on tape and listen to it in the car or at night before bed. Regardless of the method, loosing yourself in a storybook is a wonderful way to de-stress and relax.
2. Listen to Classical Music
Classical music has a calming effect on the mind and body. Not only can it reduce stress, anxiety and depression, but it can also improve your mood and promote healthy sleep. Studies have shown the beneficial effects of classical music can extend to other genres of music as well. So if country music is your thing, go for it!
3. Bake Something
Baking is a great way to unwind. Taking and transforming simple ingredients into wonderful treats is a great use of time and is fun for the whole family. Using precision as well as creativity in recipes allows for structure and experimentation all at the same time. The aromas and smells involved in baking help relax the mind and will put you in a better mood. In addition, the accomplishment of creating something delicious, as well as the appreciation from those who eat your baked goods, is a great confidence booster..
4. Get a Massage
Massages have been around for thousands of years and generations of people have enjoyed the relaxing effects. Scientific evidence has shown that massages relieve muscle tension and therefore help to reduce physical and mental stress. In addition, getting a massage can help with serious health conditions such as arthritis, Alzheimer's, ADHD, PMS symptoms, and high blood pressure.
5. Visit a Salt Room
Salt rooms are simply rooms with salt walls. They replicate the microclimate of salt caves which have a myriad of positive health effects. When a person breathes in the micro salt particles in salt rooms, bacteria and pollutants are expelled from the body through a metabolic process that lets airways open easier and allows for effortless breathing. With easier breathing comes reduced stress levels and an increased ability to relax.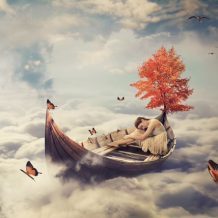 In this article