By Maddie Santiago
Staying active is only part of the equation of being healthy. It almost all goes to waste if you aren't eating right! Making your own recipes at home is a great way to avoid all those nasty mystery ingredients, chemicals, and preservatives found in store bought products. We've researched some amazing and nutritious ingredients that help your body stay healthy, fueled, and energized. We recommend adding them to your homemade granola, energy bars, smoothies, on top of your oatmeal, or even to eat alone for a healthy snack. These ingredients can keep your body in tip top shape and one of the best parts is that you can pronounce all of them!
Dates

One of the most health benefiting foods out there are dates. Nutritious and muscle developing, dates help the body recover from injury or illness. Dates are a carbohydrate source that helps replace glycogen in the body after a workout. Dates are chock full of fiber, essential minerals (such as calcium, potassium, and zinc), and vitamins (like niacin, vitamin A, and vitamin K). They are also higher in antioxidants than almost any other food! They are naturally sweet so eating them plain may give you a sugar spike, but they can be a highly nutritious and sweet addition to your recipes. You can also use date paste; it is easy to add to just about anything and it's a great base for any type of bar recipe.
Cinnamon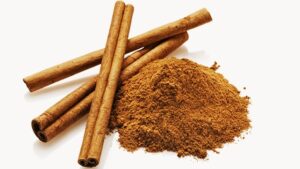 Like dates, cinnamon is also very high in antioxidants. It is ranked #7 of the highest concentrations of antioxidants of all foods. Among many other things, cinnamon is a cancer fighter, helps regulate blood sugar, helps relieve gas, and its anti-inflammatory properties help reduce pain and stiffness in muscles and joints! Even if this warm spice doesn't seem right in your particular recipe, or if you don't like the taste, adding just a pinch will be beneficial without you being able to even taste it. (Cinnamon also offers many of the same benefits for dogs and due to its antioxidant and anti-bacterial abilities it acts as a natural preservative; it's the perfect addition to those homemade dog biscuit recipes!)
Almonds/Almond Butter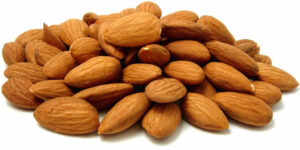 Almonds are said to be one of the healthiest foods on earth. They help with many things including blood pressure regulation, impotency, diabetes, immunity, and weight loss, just to name a few. The manganese, copper, and riboflavin in these little superfoods help increase energy and metabolism. Almonds are very high in monounsaturated fats, which are known to reduce the risk of heart disease and cancers. They also are known to improve skin and hair, so you can feel great inside and out. Sprinkle these powerful nuts whole or chopped into almost anything; almond butter also adds a creamy and delicious texture.
Pepitas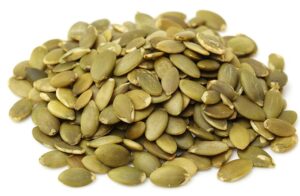 Pepitas, A.K.A. pumpkin seeds, are also very beneficial. They have anti-inflammatory properties, are a good source of omega-3 fats, and contain diverse anti-oxidants. One of minerals found in pepitas is manganese which aids in growth, reproduction, healing of wounds, and proper metabolism of sugars and insulin. Pepitas do wonders for men's health. The cucurbitacins they contain help to inhibit the production of DHT (Dihydrotestosterone) which is a testosterone by-product linked to hair loss. They also help to prevent Benign Prostatic Hyperplasia (BPH). BPH is a common non-cancerous health issue that enlarges the prostate causing men to frequently urinate throughout the night. Peptias can be eaten plain or added to many recipes.
Add these tasty ingredients into your diet by incorporating them into your favorite recipes to help naturally replenish and nourish your body. While this is just the tip-of-the-iceberg on the advantages of all these ingredients, hopefully these highlights have intrigued you to start reaping the many benefits to your health. Enjoy!